DSRIP Transition plan:
On August 2, HHSC released its draft DSRIP transition plan:
https://hhs.texas.gov/sites/default/files/documents/laws-regulations/policies-rules/Waivers/medicaid-1115-waiver/1115-medicaid-waiver-tools-guidelines-regional-healthcare-partnership-participants/draft-dsrip-transition-plan.pdf
Public comments are due August 15th to HHSC on HHSC's comment survey: https://www.surveymonkey.com/r/DSRIPTransitionPlan
Texas' draft DSRIP Transition Plan is due to CMS in October 2019; with a final due five months later in March, 2020.   Dell Medical School has been assisting HHSC with development of the draft DSRIP Plan. In November 2018, THOT and other stakeholders submitted proposals for alternative uses of DSRIP funds in response to HHSC's request. HHSC published those plans in an excel file available on HHSC's website at: https://hhs.texas.gov/laws-regulations/policies-rules/waivers/medicaid-1115-waiver/waiver-renewal
NEXT UP:
UC 14 – 17 Payment Methodology:
On Aug. 2, 2019, HHSC reiterated that it would announce a plan to determine both the allocation of withheld UC funds and a means of offsetting the UPL obligation. HHSC also noted that it is still deliberating on an appropriate path forward; and will inform stakeholders of its decision as soon as possible. HHSC will attempt to add an amount of funding to the upcoming UHRIP program year to take into account the UPL obligation. While the added funds will not be reflected in the mid-year applications, HHSC will manually add the funds after application submission.
HHSC has been reviewing at least six models for distributing these funds while paying back a debt from year one of the waiver. HHSC's three models all required significant levels of recoupment from hospitals. THOT proposed an approach to take the payback out of reserved 14-17 funds, and then distribute the remaining amounts with a methodology that state had used in a similar DSH 14-17 payment (Option X). CHAT proposed a model, and Tenet also proposed a model for distribution. All hospitals agree that a no – recoupment approach for paying back CMS with 14-17 funds before distributing remaining amounts (such as THOT proposed) be adopted.
Background: HHSC withheld funds in waiver years 2014 – 2017  in the event a Children's Hospital lawsuit required that it pay hospitals amounts above CMS' calculated limits for the DSH program (or Hospital Specific Limits HSLs). The judge in that lawsuit ruled that the Social Security Act language did not support CMS' interpretation of its HSL calculation. The judge concluded that payments made by commercial insurance for Medicaid enrollees (e.g., NICU children automatically eligible for Medicaid) should not be included (though costs should be included) in the HSL for purposes of setting DSH payment limits.  Texas chose to also ignore payments for Texas Medicaid enrollees in the calculations of programs like DSH and the waiver Uncompensated Care program, shifting significant funding in these programs from providers with more unfunded patients, to providers with patients having multiple payment sources. A Congressional Advisory Commission, the Medicaid and CHIP Payment and Access Commission or MACPAC, has issued recommendations to Congress that the Social Security Act be amended to avoid double payments for Medicaid patients and to mitigate related shifting of funding from lower-funded providers. MACPAC recommends that both the payments and the costs of Medicaid patients with other insurance be excluded from consideration in determination of maximum DSH payments to hospitals.
CMS approval of UC Pool Size for 2020-2023.
HHSC anticipates having a final annual pool amount by September 2019. Estimates of $3.8 billion have been used in recent HHSC modeling, but CMS will review hospital cost report data in HCRIS before finalizing any number.
UHRIP
On August 2, 2019, HHSC announced it received CMS approval for providing UHRIP supplemental payments for SFY 2020 (starting September 2019).  HHSC had indicated that $1.6 billion is earmarked out of 1115 waiver budget neutrality for these payments. HHSC is also pursuing a simplified supplemental payment program recommended by THOT and based on similar programs in use in Michigan and Tennessee. Under these simplified programs, lump supplemental payments can be made retrospectively to hospitals, improving transparency, reducing advance time and state hold time of IGT match funds, and reducing HMO risk and related risk payments from IGT funded payment programs, HHSC hopes to implement a simplified supplemental UHRIP program in September, 2020 (SFY 2021).
SOCIAL DETERMINANTS OF HEALTH
Texas' 1115 waiver provided opportunities to address Social Determinants of Health (SDOH) in Texas leveraging our health systems' close relationships with communities and community based organizations.  A growing body of research details the impact SDOH have on health, and healthcare utilization.  CMS recently announced a bipartisan proposal called the Social Determinants of Health Accelerator Act that will provide grants of up to $25 million to "help states and communities devise strategies to better leverage existing programs and authorities to improve the health and well-being of those participating in Medicaid."  https://www.forbes.com/sites/brucejapsen/2019/07/25/congress-warms-to-paying-for-social-determinants-and-health-industry-cheers/
CMS' 1115 Rebasing Powerpoint (pdf) 
 Request for Withdrawal of Waiver Funding Disallowance (pdf)
HHSC 21-Month Extension Request (pdf)
CMS Response to Disallowance Reconsideration Request (pdf)
Testimony
THOT Testimony for House County Affairs Committee Hearing May 16
Background on 1115 Waiver
THOT Members have a strong commitment to innovation and healthcare transformation.  Our members serve as 9 of the state's 20 1115 Waiver anchors for the Texas regional healthcare partnerships (RHP).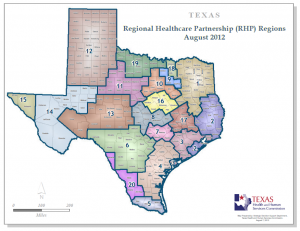 News Release
Texas Health and Human Services Commission 
Chris Traylor
Executive Commissioner
Date: May 2, 2016
Contact: Bryan Black, 512-424-6951
Big Win for Texas, HHSC Receives Extension for 1115 Waiver
AUSTIN – The Health and Human Services Commission and the Centers for Medicare and Medicaid Services have agreed to extend a state and federal partnership that finds innovative ways to deliver healthcare.
The 1115 Waiver, which funds Uncompensated Care and the Delivery System Reform Incentive Payment Program (DSRIP), was extended 15 months under an agreement between the health agency and CMS. The agreement will take the program through December 2017 and will maintain its current funding.
"We're pleased these innovative programs will have the opportunity to continue," HHS Executive Commissioner Chris Traylor said. "These programs are improving health care for Texas' Medicaid clients and creating cost-savings for taxpayers."
Over the next 15 months, HHSC and CMS, which oversees the Medicaid program, will continue negotiating a longer term extension.
DSRIP consists of local programs working to improve health care delivery costs and outcomes.
There are 1,451 DSRIP projects across 20 regions in the state. In each region a coalition of governments, hospitals and other providers are charged with coming up with novel solutions to containing health care costs while preserving access and quality. Most projects focus on increasing primary and preventative care, which not only improves outcomes, but saves money by reducing the need for expensive emergency room visits. The waiver program also helps hospitals with uncompensated care costs.
One program in Travis County trains paramedics to visit people who have frequent emergency room visits. The program has found some people can't treat conditions such as diabetes because they don't have a ride to pick up the materials. Helping prevent serious episodes is healthier and cheaper than an emergency room visit.
"One of the things I like best about these projects is they use the knowledge of the people on the ground to identify their problems," Commissioner Traylor said. "Beaumont faces different issues than El Paso and the waiver program takes advantage of local expertise."
The Uncompensated Care program and Delivery System Reform Incentive Payment programs are funded through a combination of federal and local money. Both Uncompensated Care and DSRIP contribute $3.1 billion a year, each.
Success Stories
There are strong success stories found across the state.  Please click below for a few of these stories:
University of Texas Medical Branch Story of Hope
Childress Regional Medical Center
Parkland Post-Partum Mental Health Initiative
Central Health: Austin Travis County Integral Care Mobile Crisis Outreach Team
Waiver Programs
Please click on the links below to learn more about the waiver programs, regional plans, successful projects, and more.
THOT members serving as anchors are listed in bold.
RHP 1, Anchor: UT Health Northeast, Website: http://www.uthealth.org/waiver/
RHP 2, Anchor: University of Texas Medical Branch, Website: http://www.utmb.edu/1115
RHP 3, Anchor: Harris Health System, Website: http://www.setexasrhp.com/
RHP 4, Anchor: Nueces County Hospital District, Website:  nchdcc.org/1115-waiver-information.cfm
RHP 5, Anchor: Hidalgo County, Website: www.southtexasrhp.com
RHP 6, Anchor: University Health System, Website: texasrhp6.com
RHP 7, Anchor: Central Health, Website: texasregion7rhp.net
RHP 8, Anchor: Texas A&M Health Science Center, Website: tamhsc.edu/1115-waiver/rhp8.html
RHP 9, Anchor: Parkland Health and Hospital System, Website: http://www.texasrhp9.com
RHP 10, Anchor: JPS Health Network, Website: http://www.rhp10txwaiver.com/
RHP 11, Anchor: Palo Pinto General Hospital District, Website: texasrhp11.com
RHP 12, Anchor: UMC Health System in Lubbock, Website: texasrhp12.com
RHP 13, Anchor: McCulloch County Hospital District, Website: texasrhp13.com
RHP 14, Anchor: Medical Center Health System, Website: http://www.texasrhp14.com/
RHP 15, Anchor: University Medical Center of El Paso, Website: umcelpaso.org
RHP 16, Anchor: Coryell County Memorial Hospital Authority, Website: texasrhp16.com
RHP 17, Anchor: Texas A&M Health Science Center, Website: http://www.tamhsc.edu/1115-waiver/rhp17/index.html
RHP 18, Anchor: Collin County, Website: http://www.tx-rhp18.net/home
RHP 19, Anchor: Electra Memorial Hospital, Website: http://texasrhp19.com/
RHP 20, Anchor: Webb County, Website: http://www.webbcountytx.gov/IndigentHealthCare/HealthcarePartnership/
Primary Contact Information for Anchors by Region
Click here for information about the 1115 Waiver from the Texas Health and Human Services Commission.