Maureen A. Milligan
Before joining THOT, Maureen served as the Director of the Texas Institute of Health Care Quality and Efficiency and Director of the Health Care Quality and Analytics, Research, Coordination and Support unit at the Texas Health and Human Services Commission. Maureen successfully led the development and CMS negotiation of the Texas Healthcare Transformation and Quality Improvement Program Waiver and has served in various roles in her 16 years with the Commission. She previously served as Deputy Chief of Staff at HHSC, Deputy Director in Medicaid CHIP, and the manager of Health Plan Operations responsible for over three billion dollars in Medicaid and CHIP managed care contracts. Her work experience has focused on state and federal health care reform, state health care policy for Medicaid and indigent care, and Medicaid operational and contract management. 
Prior to her time with the Commission, Maureen was on the faculty at the University of Texas Medical Branch, teaching health care administration and economics as well as medical ethics. She has a bachelor's degree in economics, an M.A. from the Institute for Medical Humanities at UTMB, a Masters in Public Affairs from the Lyndon Baines Johnson School of Public Affairs, at The University of Texas at Austin, and a Ph.D. in philosophy from Marquette University. 

Jessica Schleifer, M.P.H.
Prior to joining THOT, Jessica served as Legislative Director and Senior Policy Advisor for Texas State Senator Rodney Ellis. Jessica has also served as Committee Director for the Senate Open Government and Government Organization Committees, and as a Committee Clerk for the Senate Committee on Government Organization. Before her time in the Legislature, Jessica worked as a data coordinator for a non-profit foundation that provided free cardiovascular screenings to student athletes. She also has prior experience in clinical care, clinical research and education.
Jessica holds a bachelor's degree in Biology from the University of Texas at Austin and a master's degree in Public Health from the University of Texas Health Science Center.
Pamela M. McDonald, M.P.Aff
Pam McDonald's 29 years with the state of Texas ended August 2017 when she retired from her position as the Director of the Texas Health & Human Services Commissions' Rate Analysis Department.  As such, Pam directly oversaw the development of HHSC's fee-for-service rates for all Texas' Medicaid services, Department of Family and Protective Services foster care programs, and various non-Medicaid health care-related programs.  As well, Pam was the lead staff for the development of HHSC's existing supplemental payment program methodologies, including Uncompensated Care (UC), Disproportionate Share Hospitals (DSH), Uniform Hospital Rate Increase Program (UHRIP), and the Quality Incentive Payment Program (QIPP).
Prior to her seven years as Director of Rate Analysis Department, Pam led the Long-Term Services and Supports Section of the Department and, prior to that, oversaw rate development for Texas' Medicaid nursing facilities.
Pam has a bachelor's degree in International Studies from Reed College and a Masters in Public Affairs from the Lyndon Baines Johnson School of Public Affairs, at The University of Texas at Austin.
Chris Traylor
Chris Traylor has been involved in virtually every aspect of healthcare and social services for more than a quarter of a century. His experience and expertise put him at the forefront of legislative innovation, reform and regulation.
Traylor retired as Executive Commissioner (CEO) of the Texas Health and Human Services Commission (HHSC), on May 31, 2016. HHSC is Texas' health and human services agency, serving over five million Texans. During his tenure, HHSC had a budget of almost $40 billion, and employed 56,000 people. After his retirement, Traylor lead a a healthcare consulting firm serving clients across health and social service programs from 2016-18.
In 2018, Traylor was appointed as Deputy Administrator for Strategy at the federal Centers for Medicare and Medicaid Services (CMS), and also served as Deputy Administrator and Director for the Center for Medicaid and CHIP Services at CMS in 2019.
Traylor previously served as the Chief Deputy Executive Commissioner of HHSC in Texas and also led the Department of Aging and Disability Services (DADS) as Commissioner from January 2010 to September 2012. During his tenure at DADS, the agency implemented broad reforms to improve services for people with physical and intellectual disabilities, and extended community care options for Texans.
Before leading DADS, Traylor served for over three years as the Texas state Medicaid director. Under his leadership, Texas developed health passports for children in foster care and also expanded a managed model of care that integrated acute and long-term care services for Texans who are elderly or have disabilities. The model delivered cost savings for the state, which allowed Texas to reduce and eliminate the wait for nursing facility level in-home and community services.
His 26 years of public service also include Chief of Staff at HHSC, where his duties involved managing the day-to-day operations of the consolidation of Texas' health and human services agencies in 2004. His resume also contains experience as key staff in both the Texas House and Senate, as well as in Washington, D.C., where he worked as staff for members of the U.S. House of Representatives and a U.S. Senator.
Traylor returned to his health care consulting firm, serving clients across health and human services in 2019.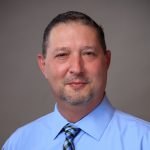 Chris Dockal
Latest Topics
Dr. Melinda Hermanns, School of Nursing professor at The University of Texas [...]
Nearly three-quarters of Harris County voters participating in the November 2023 election [...]
This fall and winter, the combined presence of the flu, COVID-19, and [...]