Investments in clinical sites for training, retention, transition to practice, workplace safety and workforce innovation are needed to meet the demands of today's nurse workforce.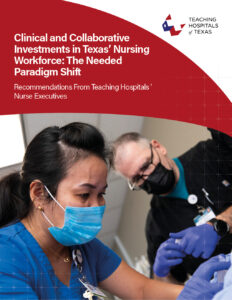 Based on a review of the published literature and real-world experience, the executive nurse leaders of the member hospitals that comprise the Teaching Hospitals of Texas developed specific recommendations and identified possible funding vehicles to target and address challenges driving the state's nurse workforce shortage.
THOT's recommendations include:
Fund preceptor pay differentials at clinical sites to increase the number of preceptors needed to expand clinical site capacity.

Create and fund nursing innovation and coordination grants for clinical sites, including hospitals and health systems, and increase funding for workplace violence prevention.

Create and fund clinical nurse faculty grant programs

Create a Clinical Workforce Consortium advisory group within the Texas Center for Nursing Workforce Studies (or increase clinical nurse executive representation on the Center's Steering Committee).
Read/download the full report here.
Resources
See School of Nursing Faculty Trends from DSHS Texas Center for Nursing Workforce Studies Here
Evaluation of THECB's Nurse Shortage Reduction Program here.
Board of Nursing and Texas Organization for Nursing Leadership Summit Report: The Future of Nursing in Texas: Stakeholders Moving Toward Alignment here.
Latest Topics
Dr. Melinda Hermanns, School of Nursing professor at The University of Texas [...]
Nearly three-quarters of Harris County voters participating in the November 2023 election [...]
This fall and winter, the combined presence of the flu, COVID-19, and [...]