THOT's members are the largest employers of hospital-based nurses and serve as clinical training sites for nursing and other healthcare professional students.
Our work focuses on ensuring a strong nursing pipeline and a strong and resilient nursing workforce as well as supporting clinical residencies and training for other healthcare professionals, including respiratory therapists, pharmacists, lab technicians, surgical technologists, and medical assistants.
THOT's members train students in all clinical professions, ensuring a strong workforce pipeline.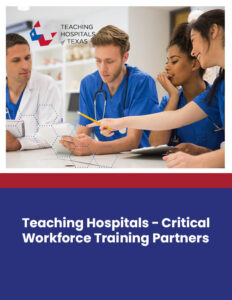 The Nursing Shortage
Texas' nursing shortage precedes the COVID-19 pandemic, but the pandemic made the shortage even more acute. For more than a decade, analysts have forecast a growing gap between available licensed registered nurses and need. The ongoing pandemic and the unrelenting need for inpatient care widened that gap even further. In addition, the increased reliance on temporary and contract nurses drove up staffing costs, causing more nurses to leave full-time hospital employment for more lucrative temporary positions.
Amid the significant staffing challenges, Texas' teaching hospitals are staying true to their patient care and educational missions.
In October 2021, THOT interviewed nursing leaders with three of our member institutions to better understand the operational shifts and investments taken to manage the nurse staffing shortage.
Among the findings:
The nursing shortage is likely to continue.
A cooling down of the rates for contract labor is essential.
Hospitals cannot assume that every temporary nurse has the necessary skills and competencies to deliver care at the level expected and required and must invest in real-time education and integration.
The effectiveness of financial incentives and soft incentives on nurse retention and employment varies by market.
A sustained focus on addressing burnout and bolstering resiliency is required.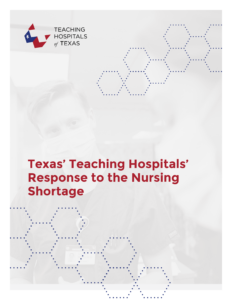 Workforce Solutions
As part of its advocacy on behalf of Texas teaching hospitals, THOT engages with legislative and regulatory leaders on long-term health care workforce solutions.
Download the brief to learn more about proposed solutions.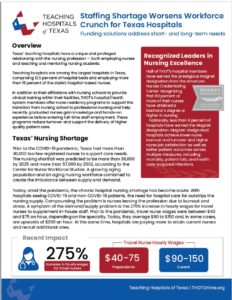 Resources
See School of Nursing Faculty Trends from DSHS Texas Center for Nursing Workforce Studies Here:  https://dshs.texas.gov/chs/cnws/NEPIS/2020/2021_Faculty_Trends.pdf
Evaluation of THECB's Nurse Shortage Reduction Program: https://reportcenter.highered.texas.gov/meeting/committee-supporting-documents/10-20-evaluation-of-nursing-shortage-reduction-program-report/
Board of Nursing and Texas Organization for Nursing Leadership Summit Report: The Future of Nursing in Texas: Stakeholders Moving Toward Alignment https://www.bon.texas.gov/pdfs/publication_pdfs/The%20Future%20of%20Nursing%20in%20Texas_Stakeholders%20Moving%20Towards%20Alignment_2020.pdf