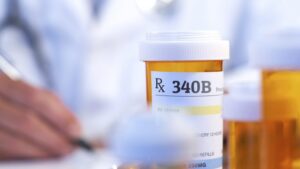 Solvaldi: Can it be reimbursed as a New Drug?
Question shared with HHSC for an additional review. 
Is 340B FFS pricing a minimum for HMO contracts?
HHSC carve-in of FFS and MMC 2.6.17
HHSC does not intend at this time to require 340B providers to carve-in both FFS and managed care if they choose to participate in Mediciad. A 340B provider may choose to participate in either FFS or managed care, but if they do choose to participate in managed care, and offer 340B purchased drugs while participating in managed care, then they must be appropriately contracted, and submit claims appropriately to avoid duplicate discounts. 
Feb 14, 2017
State Plan Amendment for 340B Pricing
The federal AMP rule, part of the ACA, requires states to submit a State Plan Amendment on outpatient RX pricing. 
HHSC said the Texas SPA has been submitted and the state should hear from CMS soon. (2.7.2017)
340B Mega Guidance: has been pulled down by the administration from OMB back to HHS for review. It may be altered or may move forward without changes.
Click link HERE to the Advisory Board for additional information.
Alert: HRSA, Office of Pharmacy Affairs issued proposed 340B Drug Pricing Program Omnibus Guidance for notice and comment on Friday, August 28, 2015 in the Federal Register. The proposed guidance addresses key policy issues including eligibility and registration of hospitals and outpatient facilities, individuals eligible to receive 340B drugs (patient definition), drugs eligible for purchase under the Program, prohibition of duplicate discounts, and manufacturer compliance, and others. The proposed guidance was open for public comment through October 27, 2015. THOT members have strong concerns about the proposed guidance. Please click below to download the THOT input provided to HRSA: THOT Comments Final 340B Guidance 102715
Latest Topics
As one of only two Level I trauma centers serving the greater [...]
Harris Health's focus on reducing emergency department visits among "multivisit patients" has [...]
Approval means private and public hospitals can receive enhanced payments from two [...]