The public hospitals that comprise the Teaching Hospitals of Texas are innovating in different ways and leveraging local partnerships to help meet their communities' urgent and increasing behavioral health needs. While each community's and hospital's work to improve access to timely behavioral health care looks different and takes a different form, each public teaching hospital shares a commitment to being part of the solution to a complex, multi-faceted problem of insufficient access to behavioral health care and resources.
Shared Challenges:
ED boarding of patients in psychiatric crisis.
Law enforcement often first entry point for many needing mental health/substance use disorder treatment.
Shortage of community-based mental health professionals, particularly psychiatrists and for children and adolescents, uninsured, those with public health insurance.
Lack of psychiatric inpatient beds and crisis stabilization, residential treatment, and other services along the continuum of care.
Fragmented care.
Learn More About Our Members' Work to Improve Behavioral Health Care in Texas
Improving Inpatient Capacity: After a 2016 community assessment revealed glaring gaps in access to timely, community-based behavioral health care in the Permian Basin region, the area's two hospital districts, including Midland Health, and state lawmakers partnered to lead an effort to build a new psychiatric hospital to serve the 17-county region.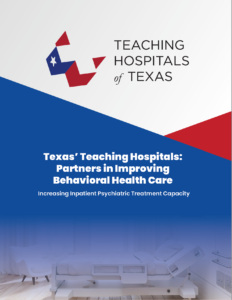 Improving Access to Timely Care for Children and Adolescents: To help address the immediate needs for earlier diagnosis and intervention for children and adolescents, THOT member, the University of Texas Health Science Center at Tyler participates in two initiatives of the Texas Children's Mental Health Consortium: the Child Psychiatry Access Network and the Texas Child Health Access Through Telemedicine.
Latest Topics
Dr. Melinda Hermanns, School of Nursing professor at The University of Texas [...]
Nearly three-quarters of Harris County voters participating in the November 2023 election [...]
This fall and winter, the combined presence of the flu, COVID-19, and [...]