Texas' teaching hospitals support federal and state legislation to continue the Hospital at Home program. Originally authorized as a COVID-19 public health emergency waiver and extended for two years beyond the end of the PHE in the 2023 Omnibus Appropriations law, Hospital at Home allows hospitals to deliver inpatient-level care in patients' homes. Two THOT members — University Health and Parkland Health — are among the more than 260 hospitals nationwide that operate these innovative, patient-centered programs.
Both federal and state legislation since have passed to support continuation of hospital at home programs beyond the PHE.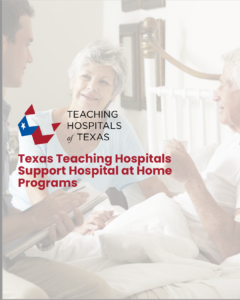 2023 Legislative Outcome

House Bill 1890 – Passed
Innovative hospital-at-home programs that flourished during the public health emergency received a boost from the Legislature with passage of HB 1890, by Rep. Jacey Jetton (R-Katy). Federal law extends authorization for hospital-at-home programs, currently implemented by two THOT members and in process with a third, through Dec. 31, 2024, but state legislation was also needed to allow the programs to continue in Texas. The bill was effective with the Governor's signature on May 27. Read more.
Latest Topics
As one of only two Level I trauma centers serving the greater [...]
Harris Health's focus on reducing emergency department visits among "multivisit patients" has [...]
Approval means private and public hospitals can receive enhanced payments from two [...]